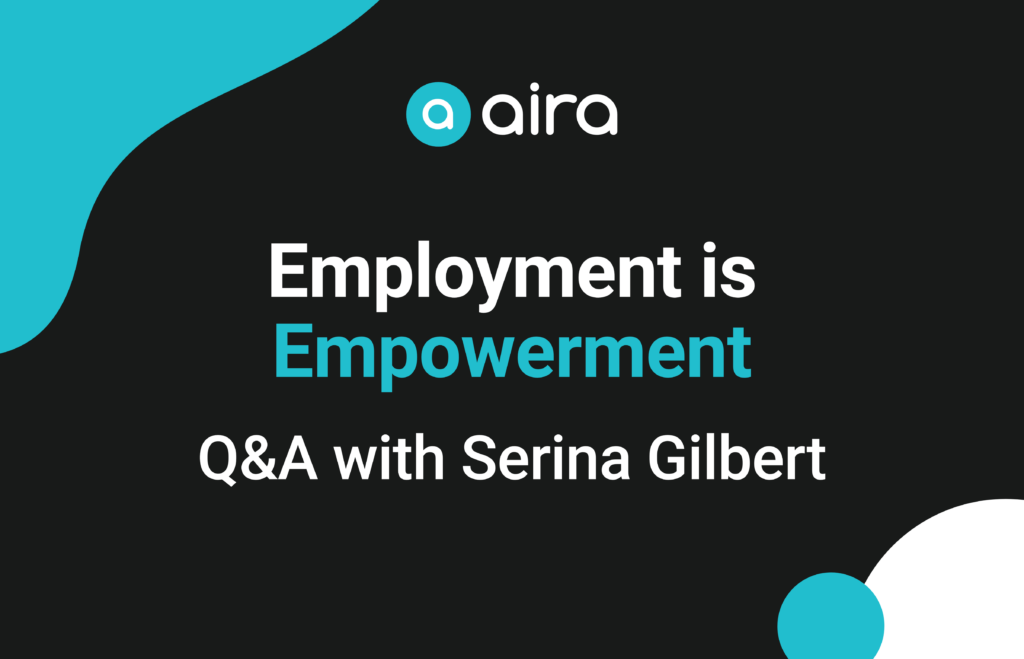 Many companies simply don't know where to start when it comes to accessible design. We're on a mission to change that – one Explorer at a time! We recently sat down with Serina Gilbert, the State of Colorado's Program Manager for the Division of Vocational Rehabilitation (DVR), to learn more about how accessibility has played a role in her career trajectory. Read on to hear what her advice is for other organizations, and what they stand to gain when they embrace the disability community.
Where do you work and what does your day-to-day job entail?
I work for the State of Colorado for the Division of Vocational Rehabilitation as a program manager, and I oversee programs that help our youth with disabilities be able to find employment. So a lot of my day-to-day is document or training preparation, that sort of thing. Also a lot of virtual meetings and collaborating with partners and things like that.
How has your workplace changed since you started using Aira?
It's made me less dependent on others. I use Aira a lot to help me format documents and make sure they all look uniform, don't have any weird spacing – things like that. I used to have to grab my administrators for that, but now – especially with the Aira desktop app – I can get an Agent to look at my documents super quickly and not have to take someone else away from their job.
Can you describe your experience with Aira Agents?
Super friendly. I've used them to cross the street and things like that and they're extremely helpful. I've also had to use them to help design graphics at work, and they were really easy to teach. So for example, I was working in Canva one time and the Agent jumped right in and was able to help me make sure it looked the way I wanted it to.
What does accessibility mean to you?
Accessibility makes the difference between whether or not someone can take pride in their work and truly be self-sufficient. I've been with the State of Colorado for 12 years now and the work I do makes a big difference in people's lives. If I didn't have access to the adaptive technology that I use, I wouldn't be able to work. Period. So without that accessibility, that diversity is lost. And having a diverse workforce strengthens you as an organization.
What's the biggest misconception about accessibility that you encounter most often?
Employers tend to think accessibility is going to be really costly or that it may compromise the security of their systems. Most accessibility systems aren't that expensive, especially when you compare it to the larger picture. People with disabilities tend to stay at their jobs longer – the turnover rate is significantly lower. We're also extremely productive workers when we have the accommodations that we need. Getting those accessibility measures in place helps everyone in the long run – not just that one employee.
What are your thoughts on how we can bridge the unemployment gap for blind and low vision individuals?
It takes both sides. I think first, we have to educate employers and make sure they know blindness isn't something to be scared of. We also need to remove the traditional barriers of work. Just because we used to have to go into the office, doesn't mean we have to any more. So for organizations, it's about eliminating those transportation barriers and the notions of what a blind worker can truly do.
And then on the other side, it's about arming the blind and low vision community with the tools and training we need to be successful. So learning the assistive technology that allows us to be able to work, and working on the interview skills we need to secure employment. It's also about counseling and guidance and finding the right path for you.
How would you describe the value of Aira to other individuals?
Aira opens up independence and it's on your own terms. It gives you independence and freedom when you need it.