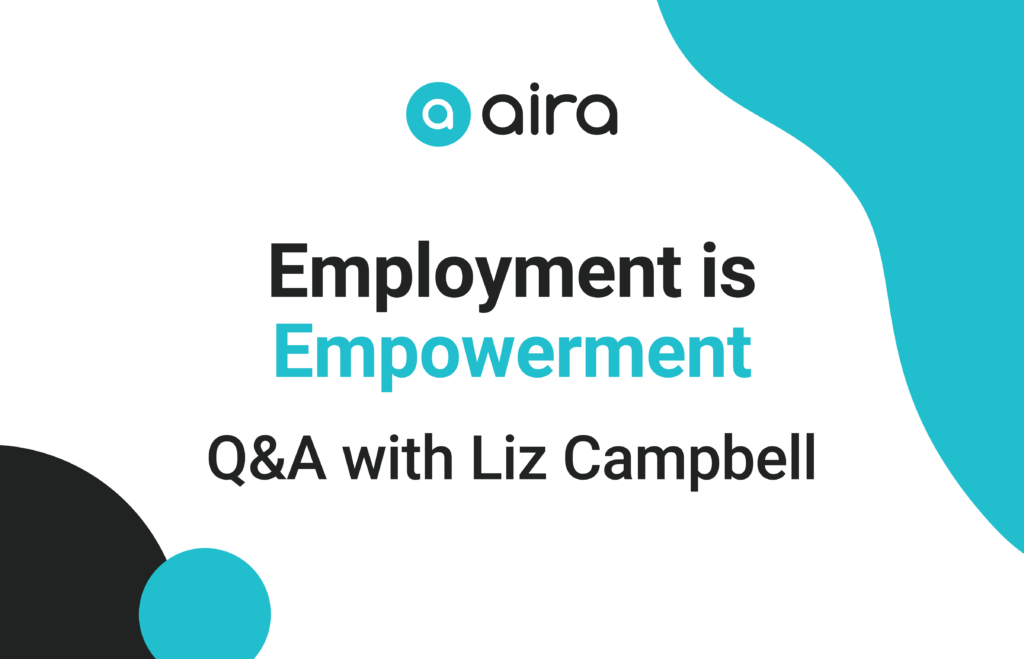 We believe access to visual information is a right, not a privilege. We sat down with Aira Explorer and journalist Elizabeth Campbell to learn more about how such access can positively impact both the personal and professional lives of blind and low vision individuals.
Liz was told early on that she should pursue a path outside of journalism; people just didn't believe she could have a successful career. Thirty-eight years later, she's still reporting on breaking news from the field. Read on to learn more about her experience and how she proved the naysayers wrong.
Where do you work and what does your day to day job entail?
I'm a reporter at the Fort Worth Star Telegram. I either work from home or out in the field or sometimes in our office, so my days can be anything from writing stories – that are either breaking or longer range in nature – or being out and about in the field. It's a job that requires you to be very adaptable and to work under all kinds of circumstances. So there's really no typical day!
How do you use Aira in your day-to-day at work?
I've primarily used Aira to help access printed information that I otherwise couldn't read. For example, when candidates run for office here in Texas, they have to complete filing forms – and all of those forms are handwritten. When there's no way other than asking someone in the office – who may be tied up with something else – I prefer to ask an Aira Agent who can help me get some of that reading done quickly. I'll also use Aira to locate certain things like a restroom in a building or just to make sure I'm heading in the right direction.
Can you describe your experience with Aira Agents?
Aira Agents give me the most realistic picture of what is happening around me. They describe everything that they see in a very specific way, without using vague terms, and I think that's because of the amount of training that they go through. In the past, I've used similar services that utilize volunteers but I just felt like I was not getting the quality of description that I wanted. The training makes a big difference.
Did you face any challenges when trying to start your career in journalism?
Oh, absolutely. A lot of people hold very negative stereotypes about blindness and the capabilities of blind people. A lot of them were just unwilling to hire me because they thought I couldn't do the work. Journalism is very visual, but there are different methods available to blind people to be able to do this kind of work.
One of the professors I had actually told me that I should drop the journalism program because he didn't think I was going to be successful. I told him, you know, that I think I deserve to have the chance, and he reluctantly let me stay in the class. When I was about to graduate, he took me aside and said, well, you made a believer out of me.
What's one thing you wish more people knew about accessibility?
It helps make us – employees with disabilities – feel so much more a part of the office. It puts us on the same level as everybody else. When people suggest workarounds that aren't really viable options for us, or just otherwise forget about accommodations in general – it just puts us in a lesser position.
I've been in journalism since 1984, so I've been working for a long time. I will say that the younger people seem to have a better grasp on making accessibility a second nature, so it makes me hopeful for the future. But it takes a lot of advocating.
What do you like to do in your free time?
I love going to listen to music, especially just fun acoustic music where you can sit outside and chit chat with your friends. It's not always fun to be outside in Texas, but we get nice weather this time of year. I like shopping for fun things like fragrances or things for my house. I enjoy taking walks with my guide dog. I definitely call Aira if I get turned around or lost along the way.
How would you describe the value of Aira to other people?
I'm just so grateful for a service like Aira because I am able to do so much more. I've used Aira countless times and knowing that I can use my smartphone to do whatever I need to do without waiting on a family member or a friend – it's freeing. I don't like to burden other people because you know, you always feel like you're on their schedule – and I'd rather be on my own schedule. That's where Aira can really help. It just puts us in the driver's seat and on an equal footing with everybody else.