What is a Visual Interpreter?
Much like a video relay interpreter using American Sign Language (ASL) for members of Deaf and Hard-of-Hearing community, our team of expertly-trained Visual Interpreters provide on-demand visual information for the blind and low vision community. As a Visual Interpreter, using our proprietary technology platform, you will answer live video calls from our blind and low vision customers. You will then assist, one at a time, with real-time tasks in countless unique scenarios. Please note you will not be on camera during these live video calls.
Apply Now to Become a Visual Interpreter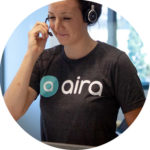 More than a job. A mission. We believe that access to visual information is a human right, rather than a privilege. Our entire company shares a single mission: to make visual information instantly accessible to anyone, anytime, anywhere.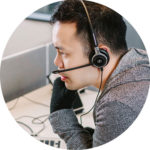 Well trained and ready to assist. We're selected from thousands of applicants and undergo a rigorous training program of self-directed online study and live sessions with experienced agents and Explorer Trainers.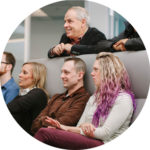 We're people who love what we do. Our best days are when we've made someone else's day better; that happens every day. We have a positive impact on the world around us.
Here is a video to show what the role encompasses and what it's like to be a part of Aira.
Reviews from our current Visual Interpreters
"I love the flexibility to schedule my work around my life. This has been invaluable as a homeschool mom. Aira invests in its teammates with continuing education and opportunities for advancement. I started as an Agent and now I work full time in Learning and Development!" – Danielle, Visual Interpreter
"I love having the flexibility to choose my own schedule! No where else have I been able to do such fulfilling work but from the comfort of my own home. Aira makes it easy to become passionate for what I do!" – Noah, Visual Interpreter
"Once upon a time, I found myself in the new position of working in a place where I wasn't particularly enthusiastic about the work. This experience made me realize the critical importance of aligning one's values with the company's vision. When a friend and Aira Visual Interpreter told me about Aira, I was excited by the company's mission to enhance accessibility for the blind and low vision community. It felt like kismet. I thought, "Wow! This is the thing of substance I didn't realize I'd been searching for. It didn't take long for my involvement with Aira, initially a side gig, to capture my heart entirely. Eventually, I made the decision to leave my previous career behind in favor of dedicating my energy and passion, full time, to this remarkable company's mission." -Belle, Visual Interpreter
Learn more about Aira
Founded in 2015
Privately held, profitable, stable company
Named Time Magazine Best Product of the Year, Fast Company World Changing Idea and called a Godsend by the New York Times
Built with the Blind and Low Vision Community
We believe Access is a Human Right
Our Values
We are powered by people
We pursue excellence & hold ourselves accountable for results
We embrace change and agility
We act with integrity, transparency, dignity and respect
We are champions of inclusion, diversity and accessibility
Interested in joining our team?  Do you have a passion for working with people, a knack for technology and an eye for detail?  We'd love to hear from you!