Intuit QuickBooks: Driving Prosperity for Blind and Low Vision Small Business Owners
Last updated on September 16, 2020

Accessibility is a natural fit for Intuit's mission of financial empowerment and prosperity. Their products are more than web, desktop, and mobile applications—they're tools that enable people to lead independent financial lives.  Together with Aira, a service that provides visual interpreters for people with visual impairments, we've created a first-of-its-kind program to empower blind and low-vision entrepreneurs.
Through the Aira App, any blind or low vision QuickBooks users can click one button and be instantly connected to a remote set of eyes.  Once connected, they can obtain the necessary support to access missing visual information and perform an unlimited series of tasks. Showcasing Intuit's innovative commitment to accessibility, it's a groundbreaking program that pair's technology and humans to work together for a shared outcome.  The initiative called the Small Business Owners offer, has yielded key results:
Real Results
This partnership has delivered an amazing 30,000 individual sessions in the past two years.  During these calls Aira professional agents have engaged entrepreneurs, business owners, and QuickBooks users with over 7,000 hours of service.
Happy Customers
To date, 97% of related tasks that have been accomplished have received the top rating of "Good" by customers.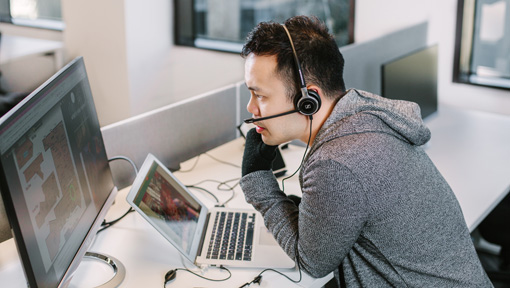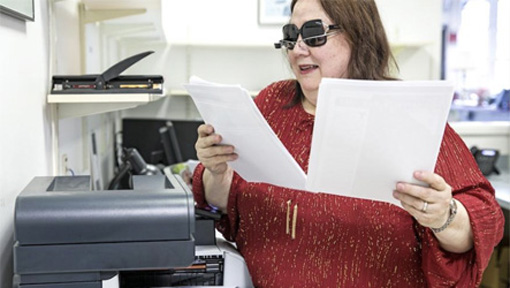 See Aira-Intuit QuickBooks video for examples of how Aira Agents assisted visually impaired entrepreneurs in such activities.
Tech for Good
Intuit QuickBooks via Aira is powering prosperity for blind and low vision users in many ways — from handling transactions and reading business materials, to assisting users in preparing business proposals, creating presentations, and more. Thus, empowering blind and low vision individuals to achieve their goals, potential, and dreams as entrepreneurs.
Thank you Intuit QuickBooks, you are leading the way and your commitment to accessibility, diversity and inclusion is setting the standard for others to follow.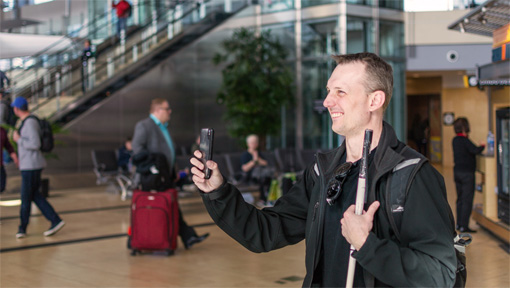 What Our Blind and Low Vision Entrepreneurs Are Saying:
"This small business offer is a Godsend!"
"I am grateful to this incredible service. Thank you from the bottom of my heart."
"This is my first time using the small business promotion, and it is fantastic!"
"[The Agent] efficiently helped me take photos of receipts, which I can now email into QuickBooks.  Thanks!"
"[The Agent did] an absolute mood and sanity saver today while helping me do some promotion work online with inaccessible sites and editing an online store for my business. Thank you so much for this offer."
"A life-changing moment!"
Powering Ahead: One Entrepreneur's Story
Starting and running a small business can be both challenging and rewarding — from writing the business plan and proposal, establishing the company's name and logo, to securing the first client. This is especially true for small business owners who are blind or low vision, which is why  Intuit QuickBooks has partnered with Aira to launch the Small Business Owners initiative to provide visually impaired entrepreneurs with online services and technology that enables them to perform business tasks with greater efficiency.
Kristen Steele, a self-employed massage therapist in Omaha, Nebraska, is one such individual.  Read how this partnership is powering her productivity and "leveling the playing field in terms of small business ideas as a way to earn an income." – Intuit QuickBooks Puts Aira to Work to Empower Small Business Owners: One Entrepreneur's Perspective.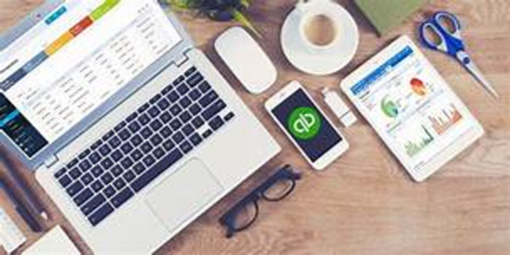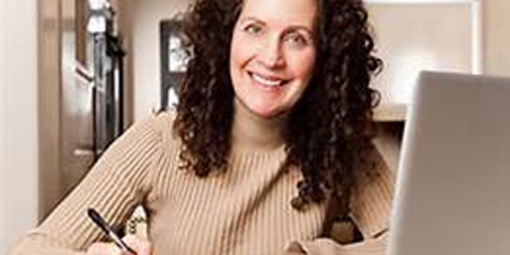 Small Business Owners, Did You Know…..?
The Intuit QuickBooks Small Business Owners offer (in partnership with Aira) applies to any blind or low-vision person who is self-employed, a business owner, or an independent contractor.
 You can take advantage of this offer without using your Aira minutes. Intuit QuickBooks has agreed to sponsor Aira minutes used by business owners on QuickBooks when owners are conducting tasks related to running their business.
This offer is available to users with the Aira app, regardless of whether or not they are Intuit QuickBooks customers. If you currently do not have the Aira app, click this link to download it and sign up for free, or search "Aira" in either the Apple App Store or the Google Play Store.
Anyone with the Aira App can engage the service simply by using their smartphone camera.
Keep in touch: As this offer expands, monitor the Aira and Intuit QuickBook partnership via social media channels for further opportunities. This may include: Engaging with fans to share experiences about how the offer is impacting your business, and to receive updated information about the offer.
Learn More
Learn more about our partnership with Intuit QuickBooks, and to read FAQs, visit Powering Prosperity: Aira and Intuit to Launch Small Business Access Initiative
Talk with us
While our initial focus is the blind and low vision community, if you think you'd benefit from live human remote assistance, we'd love to talk with you.