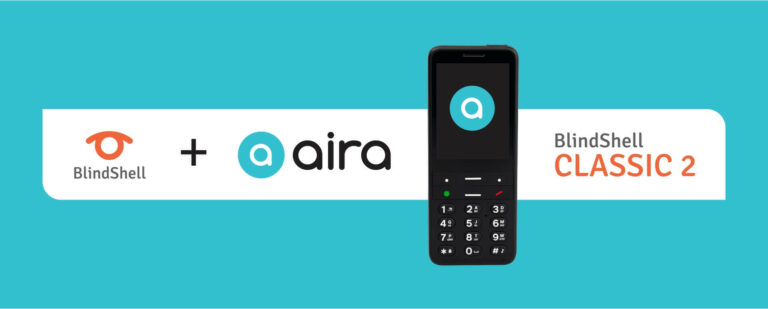 Introducing Aira and the BlindShell Phone
Adding Another Choice to 'Aira Everywhere'
Aira's mission is to remove barriers and make the world more accessible with visual interpreting. Whatever the reason, whatever the need, we provide access to visual information, anytime, anywhere. BlindShell is committed to providing phones with the maximum benefit for individuals living with sight loss. As industry leaders, we're partnering to bring useful tools to people who are blind or have low vision, supporting their autonomy, empowerment and independence.
Better Together
The Early Access release of the Aira for BlindShell app provides anyone who prefers the simple and intuitive controls of the BlindShell phone, access to Aira's visual interpreting. Unlike alternative solutions that require people to compromise with either a tactile keypad and no camera, or a touchscreen keypad with a camera, only BlindShell offers both a tactile keypad and a camera, the latter of which is necessary to access Aira's visual interpreting service.
You Don't Have to be a Smartphone to be Smart
The BlindShell Classic 2 accessible cell phone, combines not only a tactile keypad, but also voice control, and a high-volume speaker for flexibility and ease in operation, eliminating the barriers to communication found in smartphones with touchscreen navigation.
The Aira app connects people with vision loss to professionally trained visual interpreters, called Agents, who read documents, assist with navigation, access computers remotely, and provide any other visual information needed to accomplish a task.
Expanding our Portfolios
Today we are excited to announce availability of an Early Access release of Aira in the BlindShell App Catalog and the 'Aira Everywhere' promotion for anyone new to Aira or new to the BlindShell phone. Whether you are using Aira for the first time on your BlindShell phone, or you are a seasoned Explorer using a BlindShell phone for the first time, 200 credit minutes will be added to your Aira Account to get you started.
The Aira Everywhere promotion credit minutes can be used however you wish; when they are used up, you can continue as an Explorer taking advantage of our daily 'Five Minutes Free' and Aira Access offers such as Starbucks, Target (more about Aira Access partners ) or you can become a subscriber and secure additional service minutes in addition to the free offers.
What to Expect with the Early Access Release
With this Early Access release there are some known limitations and suggested workarounds. As of September 3, 2022, we'd like you to be aware of the following:
Using the Back Button
The back button will respond differently in the Aira app than in other BlindShell applications. Using the back button will take you out of the Aira app and end your call.
Instead, we suggest using the End Call function, otherwise you will not have an opportunity to provide feedback and will have to launch the app again to make another call to an Aira Agent.
Lack of Internet Connectivity
If you launch the Aira app on a BlindShell phone and are not connected to the internet, instead of receiving a 'no connection, try again' message, you will be logged out and have to log in again.
High Res Image Capture – to support reading signs and more.
The Agent will not be able to read signs while navigating at up to 30+ ft, and cannot read documents with arms length distance with font as small as 6 points. Many snapshots may be necessary in order to read, requiring additional time.
Profile Switching
Explorers who have a secondary (i.e. multiple) profiles, and who's Sponsor (employer or university) has policies around what calls can be paid for by the Sponsor (e.g. work-related only) will not have the ability to switch between profiles in-between calls.
Learn more about Aira and the BlindShell phone
Listen to our Airacast "Aira and the BlindShell Classic 2"
Read more about the BlindShell Classic 2 and how to purchase – www.blindshellusa.com
Join us for 'Introduction to Aira and the BlindShell Classic 2' webinars –  dates forthcoming.
I have a BlindShell phone, how can I add Aira?
From the home screen of the Blind Shell Classic 2, go to Applications. Hit OK.
The last item in this menu is App Catalog. Move to it and hit OK.
Move to Browse catalog, which is the first item. Hit OK.
Move to Recently added. Hit OK.
Move down the list until you find Aira. Hit OK to install.
I have an Aira account already, I am an Aira Explorer.  How can I 'move' my account to a BlindShell phone?
If you are currently using Aira on an iPhone or Android phone, you can sign into the BlindShell phone with that number as long as the iPhone or Android phone is nearby to receive the verification code. If you want to move your account to the BlindShell Classic 2, please contact Customer Care to change the number associated with your account. 
Does Aira work on the various BlindShell devices?
Aira is only available on the BlindShell Classic 2 phone. It is not available on the BlindShell Classic, the original BlindShell phone.
What cell phone carriers support the BlindShell?
In the United States, T Mobile and carriers that use T Mobile towers are supported. Outside of the United States the device works on any carrier.
In the US, the BlindShell Classic 2 phone is available online through BlindShellUSA.com for a retail price of $489.00 and also distributed through physical channels listed here. For a list of dealers worldwide, visit https://blindshell.com/where-to-buy 
What's different about Aira on the BlindShell? How does the Aira app on BlindShell compare to the Aira existing mobile app?
This version is Early Access and there are some known limitations. At this time the app allows you to make calls to Agents. More features will be added in future releases. We welcome receiving your feedback via email at support@aira.io.
Are Guest accounts available when using the BlindShell device?
Yes. You may take advantage of our free five minute calls, one per 24-hour period, and any of our Access Partner offers, just as you can with our existing mobile app.
Are paid subscriber plans the same for the BlindShell as they are for your other smartphones?
Yes. For more information about our plans and pricing, please contact our Customer Care Team, 1-800-835-1934 or support@aira.io.
Is there an introductory promotion?
Yes, for people who are new to Aira using a BlindShell phone or long time Explorers using a BlindShell phone for the first time, we will automatically add 200 credit minutes to your account. 
How do I upgrade at the end of the promotion?
To start your monthly plan, please contact our Customer Care Team, 6:00am to 6:00pm Pacific time 1-800-835-1934 or support@aira.io.
Note:
The BlindShell Classic 2 is required to use Aira. All references to BlindShell contained herein refer specifically to the BlindShell Classic 2.
Questions?
Aira Customer Care is ready to answer your questions, including how to subscribe.  The can be reached daily between 6:00 am and 6:00 pm Pacific time at 1-800-835-1934.