We are Aira Agents
Professional. Driven. Caring. Responsive.
We transform lives every day by providing objective visual information that enhances the way people who are blind or have low vision experience and interact with the world. Take a look at what we do.
Interested in joining our team?
Do you have a passion for working with people, a knack for technology and an eye for detail?  
We'd love to hear from you!
We're people who
love what we do.
Our best days are when we've made someone else's day better; that happens every day. We have a positive impact on the world around us.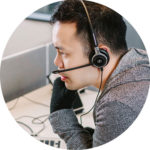 Well trained and
ready to assist.
We're selected from thousands of applicants and undergo a rigorous training program of self-directed online study and live sessions with experienced agents and Explorer Trainers.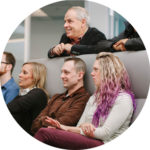 More than a job.
A mission.
We believe that access to visual information is a right, rather than a privilege. Our entire company shares a single mission: to make visual information instantly accessible to anyone, anytime, anywhere.
More about Aira
Aira was purpose-built for someone who desires visual information about their surroundings. Our community consists largely of individual people whom we call "Explorers", who are blind or have low vision and benefit from live, on-demand visual information about their surroundings.  
And world-class organizations – businesses, retailers, restaurants, grocers, banks, airports, transit systems, museums, universities and corporate employers – are providing Aira at no cost as a productivity tool for their employees, students, customers, visitors and travelers. 
Anywhere a person who is blind or has low vision needs access to visual information or needs to navigate is where Aira fits. 
Aira. The description of life.